Profile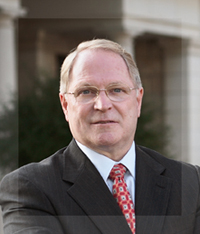 Charles T. Engel enjoyed his adolescence in Hays, Kansas. Following graduation from Kansas State University with Bachelor of Science degrees in Business Administration and Journalism, Chuck served five years as an executive and lobbyist for Kansas Motor Car Dealers Association before performing similar duties at Washburn University as executive director of Washburn Alumni Association and its University Relations department. While employed at the University, Engel earned his juris doctor degree with honors from Washburn School of Law in 1984, and he has practiced law in Topeka since.
He is a member of the Topeka and Kansas Bar Associations, and has been admitted to practice before the United States Supreme Court, Tenth Circuit Court of Appeals and the Federal District Court of Kansas.
Engel has been honored to receive Phi Kappa Theta Fraternity's Alumnus of the Year on two occasions, Washburn University's Ruth Garvey Fink Award, Kansas Optometric Association's William Carriger Legislative Service Award, Rotary International's Paul Harris Award, Kansas Library Association's Distinguished Service Award, and Kansas Society of Association Executives Associate Member of the Year Award.
He and his wife, Janet, are parents of an adult daughter. He relaxes by playing tennis and reading.